Bridgestone

Rich text
About Bridgestone
Bridgestone is a global leader in performance tyres and sustainable mobility solutions, dedicated investor to innovation and product development for car tyres, van tyres, electric vehicle tyres and ultra-high performance tyres each year.  Bridgestone is one of the world's largest tyre manufacturers, with 9 tyre manufacturing plants in Europe alone. They have developed one of the most renowned teams in developing tyre technology, innovators of the run flat tyre technology. Delivering a tyre portfolio of seven different car tyre ranges. Bridgestone are infamous for designing original equipment tyres, eco tyres, high performance sports tyres to electric car tyres.

Rich text
Bridgestone puts the principle of safety first through all stages of the tyre lifecycle, from development to production, sale, and use.
In tyre design and development, Bridgestone defined our three core elements as safety, comfort and being environmentally friendly, and will invest the resources necessary to ensure that their tyres continue to deliver on all three fronts.
Striking a harmonious balance among the three elements will allow Bridgestone to achieve ever-higher levels of value as the users "enjoy the extraordinary performance" provided by the products.
ENVIRONMENT

Rich text
Bridgestone are committed to continually working toward a sustainable society with integrity and in unity with our customers, partners, communities and the world around us.
Therefore, they are focused on three objectives:
In Harmony with Nature
To contribute to biodiversity through habitat enhancement, and through environmental education and research.
Value natural resources
To continually improve natural resource conservation through operational improvements and product design.
Reduce CO2 emissions
To continually reduce emissions of Greenhouse Gases, including CO2 from our products' complete life cycle.
Worldwide partner of the Olympic and Paralympic Games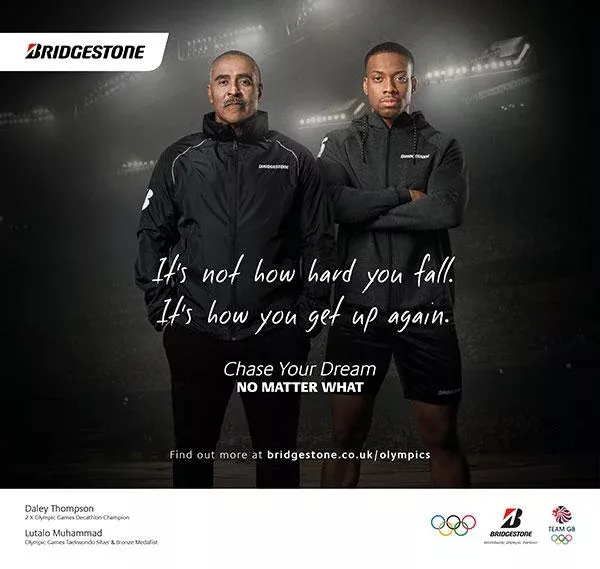 Rich text
Bridgestone, proudly became a Worldwide Olympic Partner in 2014 and a Worldwide Paralympic Partner in 2018. We have global rights to the Olympic and Paralympic Movements through to 2024, a period that includes the Olympic and Paralympic Games Tokyo 2020 (re-organised for the summer of 2021), Beijing 2022 and Paris 2024.
Bridgestone activities related to its Worldwide Olympic and Paralympic Partnerships are guided by the "Chase Your Dream" campaign, which intends to inspire people to overcome obstacles and persevere in pursuit of their goals. Additionally, these activities advance the company's efforts to help create a more inclusive and sustainable society in alignment with Bridgestone's global corporate social responsibility commitment, Our Way to Serve. Bridgestone's UK Ambassadors are double Olympic medallist Daley Thompson and Taekwondo Olympic medallist, Lutalo Muhammad who is aiming to compete at the Tokyo Olympic Games.
Buy Bridgestone tyres in the United Kingdom
Are you looking for Bridgestone tyres? Enter you car details at the top of the page or get in touch with your nearest Point S workshop to discover if the Bridgestone brand is available and have your new tyres fitted by one of our experts!