Point S 4 Seasons VAN
Point S 4 Seasons tyres for van offer a high performance for the best good value for money all year. Have a look at the sizes of our all season tyres for your van or utility vehicle!
Label
Certified by the European tyre label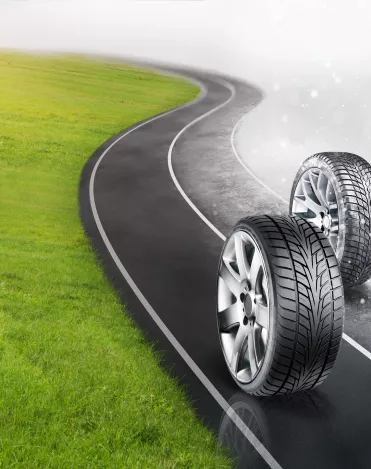 Rich text
Point S 4 seasons tyres for van are designed in Germany and produced in Europe to guarantee you the best quality. We have developed these 4-season tyres for van and utility vehicle to optimise mileage performance, to provide a good snow performance and a balanced driving comfort. The Point S 4 seasons van tyres are definitely good value for money since they offer the best quality at a good price. Besides, you can be sure to travel safely with the all-season tyres as they are certified for winter (three-peak-mountain with snowflake "3PMSF" on the sidewall of the tyre).
Description of the Point S 4 Seasons Van
Customer target: end-consumers living in inner-city districts, or regions with a lower snowfall risk
Category: 4 Seasons van tyres
Season: all year long
Certification: European tyre label and certified for winter

Rich text
Benefits of the Point S 4 Seasons Van
Point S strongly recommends you to use the appropriate tyre when you have in your country extreme weather conditions. If not, we advise you the use of our Point S 4 Seasons tyres as they are safer than summer tyres in winter. Indeed, the safety in terms of braking distance and handling are better on the all-season tyres than on summer tyres.
If you need advices on how to choose the best tyres for you, please contact your nearest store.
Characteristics of the Point S 4 Seasons Van
Performance

Benefits
Focus on Technology

Wet performance

- High performance on wet roads

- Good aquaplaning resistance and short braking distance on wet roads

- Step-sipes with prolonged edge length lead to a lower amount of sipes needed which in turn increase the stiffness level
- Wide lateral shoulder grooves lead to efficient water drainage

Snow performance
- Improved grip on snow
- Strong braking performance on snowy roads
- Snow is trapped in the pocket and improves traction behaviour due to now-to-snow-friction
- Enhanced traction on snow due to step-shaped groove edges
Driving stability
- Good directional stability and safe cornering on dry, wet and snowy roads
- Ribbon structure of the pattern with tie bars in centre
- Handling rib in the shoulder improves vehicle dynamic due to stiffness distribution
Different sizes of the Point S 4 Seasons for vans or utility vehicles
Each driver is different, that is why Point S offers 5 different sizes for your van or your utility vehicle. Explore our tyre dimensions and find your ideal tyre.
Material Description

Marketing Line
Fuel efficiency
Wet grip
External rolling noise
Noise grade

195/70R15C 104/102R

 

POINT S 4 SEASONS VAN
C
A
73
2
205/65R16C 107/105T (103T)
POINT S 4 SEASONS VAN
C
A
73
2
215/65R16C 106/104T
POINT S 4 SEASONS VAN
C
A
73
2
215/65R16C 109/107T (106T)
POINT S 4 SEASONS VAN
C
A
73
2
235/65R16C 115/113R
POINT S 4 SEASONS VAN
C
A
73
2
The Point S 4 Seasons Van is exclusively available in our Point S points of sale. Find your nearest Point S outlet or make an appointment directly with our experts!
All the articles providing you with tyre tips are right here: How to change a tyre, how to read tyre size, how to choose the right tyres among the different tyre brands, how to check tyre pressures, and how to recognise tyre wear.