Point S Summer for passenger, sports cars and SUVs
Point S Summer: So good even the roads agree - whatever the weather!
Vehicule
Passenger cars

Sports cars

SUVs
Label
Certified by the European tyre label
Rich text
Who make Point S Tyres?
The Point S Summer tyres are designed in Germany and produced in Europe to ensure our customer the best quality and safety on the road. Point S Summer has been designed to offer optimal performance on dry and wet roads. Explore the Point S range! The perfect combination between good value for money and safety!
Point S Summer review
Target: passenger cars, compact cars, sports cars, 4x4, SUVs
Category: summer tyres
Season: summer
Certification: certified by the European tyre label
Rich text
The benefits of Point S Summer
The Point S Summer is designed with technologies that improve braking and handling performance and acoustic comfort while driving. The additional benefits of our technologies also ensure a long lasting mileage and optimise a low rolling resistance to save on fuel and CO2 emissions.
Performance
Benefits
Focus on Technology
Wet and Dry performance
Precision, control and strong braking capabilities on wet and dry roads

- Enlarged groove in the outside shoulder improve water drainage keeping you safe in case of heavy rains
- Variable sipe angles throughout pattern allow optimum grip in braking and cornering
- Outside closed shoulder and large block geometry provides plenty of rubber contact to the road for good control on dry roads

Long lasting mileage

Getting the most for your money, Point S Summer will last the extra mile

- High mileage compound that reduces abrasion through strong polymer filler interaction
- Sleek and reduced pattern design leads to a harmonic interaction with the road and creates a very even wear shape
- High-tech asymmetric sipe depths in the central rib structures further balance the pressure across the footprint

Low rolling resistance
Savings on fuel and CO2 emissions for your peace of mind

- Latest generation silica optimizes the energy loss during tyre rolling and road interaction
- Upgraded vulcanization agents enable a flexible compound in wide temperature ranges
Point S Summer: summer tyre sizes compact, sports cars and SUV for UK
Point S offers a large size portfolio certified by the European tyre label. The Point S Summer tyres have indeed an excellent rating (B) for the wet grip, proof of safety on wet roads!
Ready to enjoy a safe drive regardless of the weather or road you take?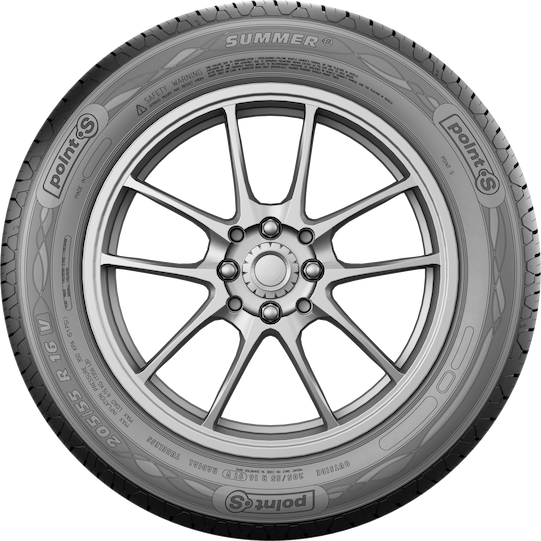 Rich text
Summer tyre sizes for passenger cars, sports cars and SUV
Available for your vehicle from 13 to 19 inches, click here to find your tyre dimension among the Point S Summer range. 
How to read your tyre dimension? Indicated on the sidewall of your tyre, its dimension is made up of several elements. As example: 205/55R16 91V means:
205: width in mm
55: 55% - the ratio of the height to width in %
R16: diameter of the tyre's inner rim in inches
91: load index indicates the maximum load carrying capacity of the tyre
V: speed rating indicates the maximum speed for the tyre at the full load
How to check the wear of your Point S Summer?
Visual Alignment Indicator (VAI): A warning system of small sipes of varying depths equally positioned around the tyre on both shoulders that indicate uneven wear due to improper alignment. This ensures a long tyre life! You can also see this indicator thanks to a Point S icon on the off-shoulder.
Summer TWI: Additional safety feature in the tread design. The summer TWI informs the driver when the remaining tyre tread is 3 mm. We recommend replacing tyres when there is just 3 mm of tread depth remaining, in order to provide continued safety in wet conditions, in particular against aquaplaning. The summer TWI is an additional feature to the legal TWI (1,6 mm).
Where to find Point S tyres and your Point S garage?
Change your tyres for Point S Summer tyres, exclusively in Point S workshops, to ensure your safety on dry and wet roads. Find your nearest Point S garage or make an appointment directly with our experts!
All the articles providing you with tyre tips are right here: How to change a tyre, how to read tyre size, how to choose the right tyres among the different tyre brands, how to check tyre pressures, and how to recognise tyre wear.