Exhaust system repair and replacement
Better for the environmental protection, the performance of your engine and the serenity of your ears, an exhaust system in a good condition has many benefits!  At Point S, we inspect your exhaust and if we raise any problem, we either fix or replace it. Any doubt on the wear of your exhaust? Read below how to diagnose signs of wear in your exhaust system, and visit your Point S experts.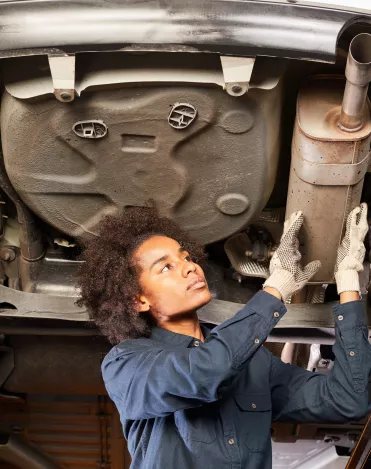 Rich text
Exhaust system repair and replacement
An exhaust system is complex and composed of many different parts. It impacts the performance of your engine and helps protecting the environment and your acoustic comfort.
The muffler or catalytic converter is a crucial part in the process of cleaning the exhaust gases of your vehicle. Indeed, this component enables to get rid of 90% of the most harmful gases. A chemical reaction turns the gaseous pollutants into gases that are harmless to the environment.
At Point S, all our experts are trained to provide many services on the exhaust system from the check-up of the components to the replacement of weary parts. We provide you below some indicators that can shed some light about the condition of your exhaust and if you notice any trouble you should get in touch with our experts!
Why controlling an exhaust system?
The exhaust system must be inspected regularly because an exhaust in good condition will allow you to:
Reduce the sound level inside and outside your vehicle due to the several explosions that occur during engine cycle
Improve the performance of your vehicle. The motor can increase its power but consumes more and makes more noise. If it is too smothered, the engine lacks power. It is therefore important that the muffler is well adjusted.
Reduce pollution
How to know when your exhaust system is used?
An exhaust wears itself out because of high temperatures of gases (900°C for 130km/h!) and internal and external corrosion. We advise you to pay attention to the following signs of a weary exhaust system:
An increase in your fuel consumption
An increase in the noise level of your vehicle. Subject to a fine, this may also lead to fail the MOT test
Polluting emissions (smoke from your exhaust becomes darker)
Premature wear of engine parts
Loss of part or all of the exhaust line
When to make a checkup of your exhaust system?
The exhaust system and more especially the muffler should be checked by experts every 20,000km. We advise you to change the catalyst in average every 100,000km and the rear silencer every 80,000km. Of course, these recommendations depend on the traffic conditions and the driver's habits. For an optimal follow-up, make an appointment or visit your Point S centre!
Check out our expert tips about vehicle maintenance and car tyres for a no-stress life