Seasonal Tyre Change
Twice a year all cars need a seasonal tyre change. Historically this has been done by the car owner in the back yard, but newer cars have given new challenges.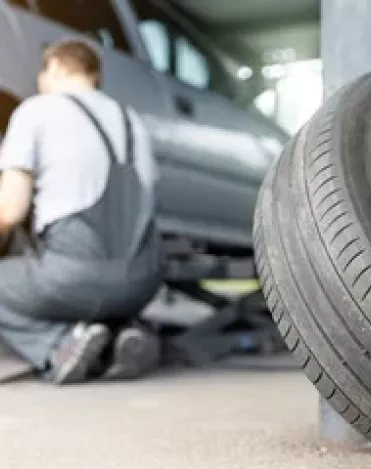 Rich text
Tyres and rims are bigger and heavier than they used to be, and the technical issues have to be kept in mind- this is why it is safer and easier to let professionals handle your seasonal tyre changes:
Some cars are extremely critical concerning jacking points, errors can be very expensive
Some cars have to be put in "jacking mode" in the internal display prior to lifting the car
Some tyres have specified rolling direction and need to be fitted on the correct side of the car
Some cars have different rims and/ or tyre sizes on the rear and front axle
Some cars have different wheel bolts for summer and winter rims
Some cars have extra "rings" fitted on one or both rim sets to make them fit exactly right
All newer cars have a Tyre Pressure Monitoring System, some cars need programming when making seasonal tyre change to avoid error messages in the display of the car
Tightening torque is important, errors can cause damages and/ or accidents
Inspecting tyres for wear and damages should always be done as a part of the tyre change process as this gives you the opportunity to visually check the entire tyre.
When you let your local Point S experts handle this process you can be 100% sure that everything is taken care of in the best matter possible- it gives you peace of mind and secures a safe journey!
When should the seasonal change be made?
If you are using non-studded tyres there are no legislation stating when you HAVE to do your tyre change. The rule is just that you should always secure the road grip of the car, and equip the car with "correct" seasonal tyres. Driving with non-studded tires in the summer is not illegal, but tests have shown that the grip on wet roads in combination with high temperatures is much lower with non-studded tyres compared to summer tyres.
Studded tyres can be legally used in these periodes in Norway:
Southern part of the country: from the 1st. of November to the first Monday after easter
Northern part of the country: from the 16th. of October to the 1.st of May
Can I change from run-flat to normal tyres and vice-versa ?
If you car is originally equipped with run-flat tyres it will not have a spare wheel. This may put you in a difficult situation if you get a puncture on the open road.
If your car is not originally equipped with run-flat tyres you should take care if changing to run-flat. You MUST have a Tire Pressure Monitoring System in combination with run-flat tyres, otherwise you may drive with a punctured tyre without knowing.
Check out our expert tips about vehicle maintenance and car tyres for a no-stress life