Buyer's guide: Winter tyres
As the winter season approaches, our Point S experts have created a buyer's guide for you in your winter tyre search to make you more confident when the time comes to choose. Definition, market offer and advice, after your reading, you will be real winter tyre professionals.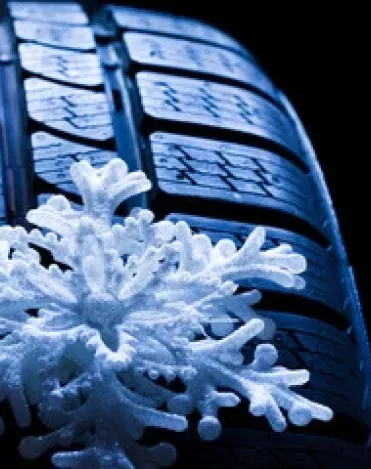 Rich text
Why choosing winter tyres?
A winter tyre is a tyre that remains effective and efficient even below 7 Celsius degrees, the temperature where conventional tyres start to become hard and losing grip. It's very important to understand that a winter tyre does not have to wait for the first snows to be installed on your vehicle: this misconception is false and can potentially place you in danger.
To help you understanding their usefulness, here are some characteristics of winter tyres:
Significant reduction in braking distances on wet, icy and snowy roads
Optimization of grip and vehicle control
Reduced risk of aquaplaning
The alloy used in the design of the rubber provides much better resistance to low temperatures. Indeed, winter tyres are designed with a mixture of rubber and silica materials which makes them heat-resistant.
Winter tyres no longer claim to be absolute snow specialists like snow tyres could have been a few years ago. Today, winter tyres are high-performance and versatile tyres capable of bringing comfort and manoeuvrability to users during driving sessions in various tough climates. As well suited to snow, ice or wet ground, these products prove to be the perfect winter companions for your vehicles.
Overview of the market offer
At Point S, we are proud to be associated with many tyre brands recognized around the world, so we have undertaken to detail the offer available on the market to help you choose among all the references that you are offered in our centres.
In order to advise you, we have based ourselves on the best-selling winter tyre model for personal vehicles: the 205/55/16-91. We will propose here references by budget: less than € 70, those between € 75 and € 90 and finally more than € 90.
First category, less than 75 €.
The first reference that we recommend is the TOYO Observe S 944. Excellent on ice and very quiet, this winter tyre also has real qualities on wet ground and in terms of fuel consumption. However, its main weak point is its lack of endurance. A tyre that we will recommend for its attractiveness and value for money, count around € 70 per unit* for the winter tyre from the Japanese manufacturer. 
The Point S bonus: We purpose in our Point S centres in exclusive distribution the latest version of our winter tyre: the Point S Winterstar 4 (hyperlink to the Winterstar 4 page). Subject to real progress in every way compared to its big brother the Winterstar 3, the latest addition to the point S range, designed in Germany and manufactured in Europe, can claim to be a real option in your search for winter tyres. For a price of just over € 70 per unit*, our tyre is a perfect value for money for smaller budgets.
Second category, 75-90 €.
First comes the Pirelli Cinturato Winter. The Italian stands out for its excellence on snowy ground and for its discretion. It also has good performance in wet conditions. On the other hand, it lacks quality on dry ground and remains limited in terms of mileage endurance. Count around 80 € per unit * for this snow master.
Next, let's talk about the Dunlop Winter Sport 5. A very balanced winter tyre which has the advantage of being good on all types of ground, it stands out for its excellence in terms of fuel consumption and durability over time. An excellent value for money for the items offered. A real winter tyre veteran that you can find around € 85/90 per unit *.
Now here is the king of the category: the Bridgestone Blizzak LM005 which stands out as the best value for money you can find in premium brands. Well, even excellent on all surfaces, whether wet, snowy, icy or dry, it also has real quality in terms of fuel consumption. For a price of around € 80 per unit *, this winter tyre is a true market benchmark. Only weak point to note: a relatively low mileage endurance.
Let's finish this category with the Continental Conti Winter Contact Ts 860. Well balanced winter tyre with good performance on snowy, wet and icy surfaces, it can also provide real discretion. We will note all the same slightly lower performance on dry ground and average durability over time. Count a little less than € 90 per unit * for German one, which is still just as reliable year after year.
Third category, over 90 €.
The first in this category is the Goodyear Ultragrip 9 Plus. Excellent on snow and very good on wet ground, it also scores points on fuel consumption. On the other hand, it disappoints with its lack of endurance and its performance on dry ground. Count almost 100 € each * for this true weather warrior.
Finally, the last tyre of this selection, the Michelin Alpin 6. Symbol of the price for quality. Truly excellent on all surfaces and also in terms of consumption and endurance, it is the most successful and performing product of our selection, but to have it, you will have to pay around € 110 per unit *.
Some additional recommendations
In order to complete this buyer's guide in the best possible way, here are some tips that will be important in your research:
Buy your tyres by 4 and not by 2. Indeed, although in the majority of the countries the legislation does not oblige the purchase of 4 simultaneous tyres, if you decide to put winter tyres only on your driving wheels your vehicle will suffer a real global imbalance of its running gear. Consequence: an increased risk of spinning or that the vehicle skids.
Favour the purchase of winter tyre/rim sets to facilitate the fitting of the wheels and their replacement. Thus, your costs at the garage will be lower and you can make great savings. In addition, you can protect your beautiful usual rims for the benefit of more suitable ones. Which brings us to our 3rd point.
Opt for jail rims and not aluminium rims for the bad season. Indeed, winter conditions coupled with salt and sand deposits to prevent accidents are highly likely to damage and oxidize your annual rims. Starting on jail rims allows you to have a product that is more resistant to the conditions imposed. For lovers of aesthetics who want to keep their alloy rims, be sure to take care of them to avoid oxidation.
The case of 4-season tyres in winter: the 4-season tyre solution is valid because most of the latest-generation tyres have winter approvals. However, it is a compromise that is not perfect. In fact, in winter your tyres will be far below the performance of real winter tyres and will restrict your movements and in summer your tyres will be less efficient and will tend to wear more quickly. This type of tyre is ideal for citizens, for example, who will not need to deal with harsh winter conditions and who will not seek road performance in the first place.
That's the end of this guide, we hope it will help you in your search for safety this winter!
You can find all our partner brands here.
For more information and advice, you can complete this reading with the following articles:
Can we drive with winter tyres in summer?
10 key steps in selecting winter tyres.
For the fitting of your tyres and advice from our Point S experts: make an appointment in one of our approved centres.