10 key steps to choose the best winter tyres
When winter is coming, it is highly recommended to fit winter tyres. But as many drivers, you are certainly wondering "which tyres for my car?"
The first thing you should do is not listening to your family and friends. Each car is different and needs different tyres that are adapted to your driving habits.
To help you, here is a list of 10 advices for you to get the best winter tyres.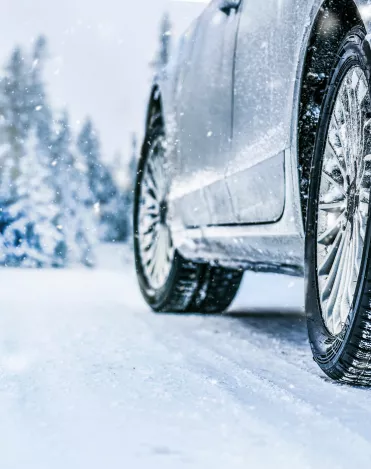 Rich text
1 – Know the size of your tyres
It makes sense but it will be the first question you'll be asked when entering the store. If you are unsure, you just need to have a look at the sidewall. For example, if the code written on your actual tyre is P205/60 R16, it means: 
205 – This number corresponds to the width of the tread, meaning the part of the tyre in contact with the road
60 – This number represents the ratio (as a percentage) between the top of the tyre (sidewall height) and the width of the tread (section width)
16 – It gives the interior diameter of the tyres, in inches
2 – Know what types of roads you drive on
Are you driving on city roads? Side roads? Highways? If you drive a lot, you shouldn't hesitate getting high-quality tyres, especially if you drive a compact car that will have the tendency to skid in bad weather conditions. 
If you only drive in the city, good-quality price tyres will do the job!
3 – Look at the tyres
Take the time to go into a store. You will be able to compare the quality of the tyres, in particular the grooves, flexibility and lateral stiffness. As a reminder, large grooves provide a better traction on winter roads and facilitate the displacement of slush and snow. 
4 – Ask the right questions
A good sales representative will ask you the right questions to provide you the best tyres you can get. He will ask about your everyday use of your vehicle but also your annual mileage, whereabout you live and of course your budget. 
5 – Choose between snow and ice tyres
Generally speaking, ice tyres are considered of a superior quality since they provide excellent traction on ice and on snow when the opposite isn't the case. 
If you usually drive on the highway and mostly drier roads, ice tyres will be recommended. If you drive more downtown, you should get snow tyres to help you getting rid of snow banks. 
6 – Learn about handling and braking
It is the main reason why you should get winter tyres. Below the temperature of 7 degrees, an all-season tyre or a summer tyre will lose traction and flexibility and won't offer a driving as safe as a winter tyres.
7 – Compare EU tyre labelling
When going into a store, you will be able to compare EU tyre labelling. It is a performance rating that was implemented in the EU in 2012. It gives information on 3 factors:
- Fuel efficiency: the energy lost when a tyre is rolling is called rolling resistance. The lower the rolling resistance is, the more you will tend to save fuel and decrease your CO2 emissions
- Wet grip: it gives information on the tyre's grip on wet roads. Tyres with excellent grip have shorter braking distances
They both go from A (highest performance) to G (least performing). 
- Noise levels: it corresponds to the tyre's exterior noise, expressed in decibels 
8 – Insist on getting several offers
Ask for more than one tyre offer! You will be able to choose your winter tyres among many suggestions made by the sales rep.
9 – Avoid mixing your tyres
Getting different brands of tyres for your car is never a good option. It can affect your driving, lead to poor handling and cause premature wear on some parts. 
10 – Respect your budget!
It is an important aspect of your choice of tyres. Take your time to compare prices and quality in order to get the tyres best fitted for your car and of course for your needs!
When choosing your winter tyres, take the time to ask for the right questions, get all the information to make a wise decision. 
For more information and advice, make an appointment directly with one of our experts!