Pre-MOT check: prepare your vehicle for an MOT
Getting your vehicle ready for an MOT test can be a stressful experience. To help you make sure that your vehicle is ready for the MOT, you should do a pre-MOT check. A pre-MOT check is a thorough inspection of your vehicle that will help you identify any potential problems that may cause your MOT to fail. You can save time and money by repairing any issues before taking your vehicle to the MOT. In this article we will help you prepare your vehicle for its roadworthiness test!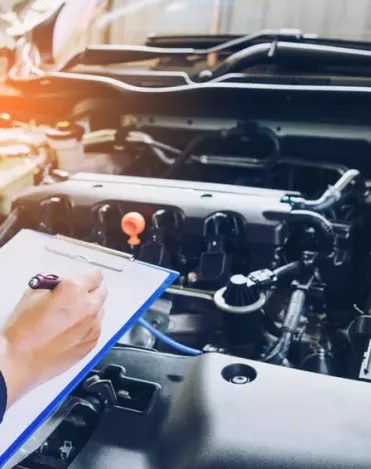 Rich text
When does my car need an MOT?
An MOT (Ministry of Transport) test is a legal requirement for cars over three years old in the UK. The purpose of the test is to make sure that the vehicle is roadworthy, and up to the safety and environmental standards set by the government. An MOT check is required annually and must be completed before the vehicle can be driven on the road.
What is tested in an MOT?
During an MOT, every angle of your car will be inspected, but we can identify 9 points of interest that will form the basis of the check carried out in the workshop:
Engine, to check oil and coolant levels.
Tyres, to check wear and deformation.
Exhaust system, to detect a potential hole in the exhaust pipe, excessive wear or poor fixing.
Bodywork, which must not contain any dangerous appendages and must comply with fixing standards. A check of the opening elements will also be carried out: bonnet, boot and doors to see the state of the hinges.
Visibility, everything that concerns impacts or obstruction of visibility on the windscreen, mirrors, or rear deck as well as the correct functioning of the windscreen wipers.
Brakes, checking the level of brake fluid and the reliability of the brakes.
Passenger compartment, regarding the seat belts, the fixing of the seats, another removable parts and finally the operation of the horn.
Registration, which must be perfectly visible and legible, in good condition and above all conform with the latest regulations.
Lighting, on the functioning of the lights, the condition of the bulbs, headlights, brake lights and the adjustment of the latter.
What fails an MOT?
If a car does not meet these standards, it will fail its MOT. Common issues which can cause an MOT to fail include broken lights, faulty brakes, worn tyres, and emission levels that are too high, which lead your car to be unroadworthy.
Do garages offer a pre-MOT check?
Pre MOT checks are an important part of the process of getting your vehicle ready for its MOT test. These checks are designed to help identify any potential issues that could lead to an MOT failure, allowing you to fix them before the test. They also help to ensure that your car is safe and roadworthy, which is the main aim of the MOT test.
What needs to be checked before an MOT? Our recommended MOT checklist
To prepare your car as well as possible before the MOT test in the UK, you can carry out a few small checks yourself to feel more confident before the vehicle be examined. Of course, for the more complex elements we advise you to go to your local Point S centre. Here is our recommended pre-MOT checklist!
Check your registration
The first thing you can do is to check your car's number plate. It must not be cracked, bent, or broken and the lettering must be in accordance with the information given on the registration card. It is obvious, but the type of fuel must also match the one on the registration document.
Check your tyres
Before you hit the road, make sure to check your tyres as part of your pre-mot check. Checking your tyres is important for ensuring that you have the correct tyre pressure and the right tread depth for maximum grip and safety on the road. As UK law a requires a minimum tyre depth of 1.6mm, you'll simply need a 20p coin to insert into the grooves. The outer band of the coin must not be covered by the grooves so that it exceeds the legal limit of 1.6mm. Easy!
It's also important to check the condition of your tyres for any signs of damage. There are indicators on your tyres to give you an idea of how worn they are. This wear should not exceed 5mm on both tyres on the same axle, if this is not the case replace them. As for the rims, make sure that no serious deformation is visible.
Check fluids levels
Next, check all the fluids in your car. Indeed, before the visit, make sure you fill up with brake fluid, coolant and with windscreen washer fluid. After that, use your information in the passenger compartment to check whether any tanks are leaking or have other problems.
Check your windscreen, mirrors and lights
Checking the visibility is also easy to do! Make sure that there are no impacts larger than a £2 coin on the front or rear windscreen. Check your windscreen for cracks, chips or other damage. Also, check that your windscreen wipers are perfectly fixed and functional. Your wiper blades need to be in good condition.
We also recommend to check all your mirrors (the two side mirrors and the internal rearview mirror) for any sign of damage. 
To complete the visibility element of your check, you can easily take care of your lighting. Check all your bulbs, whether they are for the lights, indicators, headlights, or any other bulbs in the passenger compartment. Most are easy to change.
Check your car's bodywork and interior
Finally, for the bodywork and interior, check for problems. Try to put back dangerous pieces of sheet metal and check that the seats are well fixed and that the belts and airbags are in perfect working order.
What is Checked During a pre-MOT Check?
A Pre MOT check is an important part of preparing a vehicle for its MOT test. It is a thorough inspection of the vehicle's condition and components, designed to check that it meets the minimum safety and environmental standards set by the Driver and Vehicle Standards Agency (DVSA).
During a Pre MOT check, a qualified technician will check the vehicle's steering, brakes, suspension, tyres, lights, equipment and more to make sure that it is safe to take on the road.
How much does it cost for a pre-MOT check?
At Point S, we do not offer MOT tests. However, we do offer you complete check-ups of your vehicle in preparation for MOT so that your vehicle is as ready as possible to avoid a second inspection. We have the expertise and tools to make your vehicle as good as new and avoid pressure.
To find out more about our pre MOT services, please contact us or make an appointment in your nearest centre! We look forward to meeting you in our Point S centres.